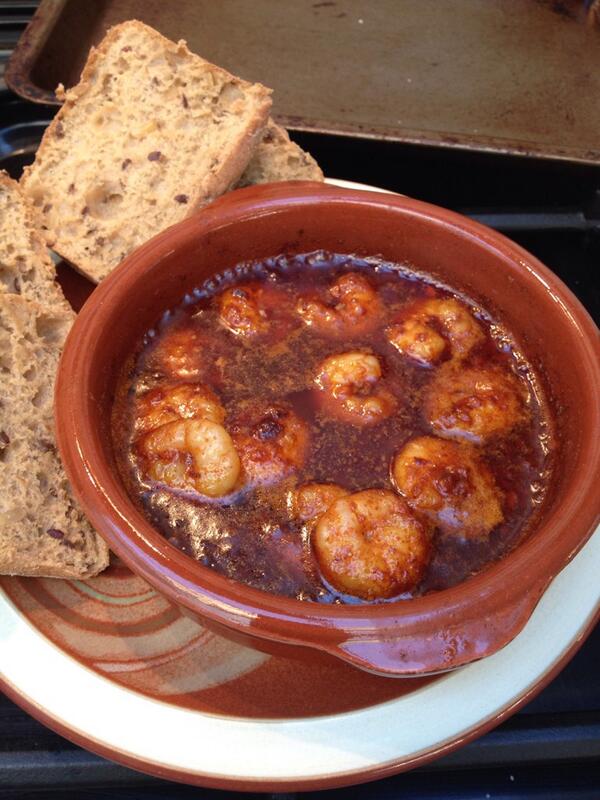 I got a great reaction to the Prawn Pil Pil dish that I cooked last weekend when I tweeted about it and put a photo up on my Facebook page.   I just love the taste of smoked paprika, it's definitely up there as one of my favourites.
The inspiration for this dish came from a recent trip to Spain.  While there, we visited Pinoccio's Bar  who have a vast array of gluten free tapas and dishes available.  They are very knowledgeable about coeliac disease and cross contamination.  I've eaten here a few times and never had a negative reaction.  So, this year I tried their Prawn Pil Pil with gluten free bread to mop up the sauce.  I loved it so much, I had to recreate this recipe.
When I was in Spain, I bought a few Tapas ceramic dishes in the market as you can pick them up for €1.00.   This is definitely a dish that I think should be made in individual dishes, no issues with double dippers!  Just make sure that whatever dish you use, is oven proof and small enough for one serving.
Ingredients
Olive Oil – Not Extra Virgin as it would be too overpowering.
One clove of garlic finely chopped per serving – at least.  Add more if you like.
One Teaspoon of Smoked Paprika per serving – I stock up with Authentic Gluten Free Version when in Spain.  The tins can be sourced in Ireland or online.
Sprinkle of Dried Chilli Flakes (to personal taste) per serving.
Sprinkle of Salt Flakes
I used a 200g bag of frozen, precooked prawns for two servings and they worked a treat.  Just defrost them overnight in the fridge. Don't leave them outside of the fridge as Prawns can go off quite quickly.  Obviously, fresh prawns would work equally as well.

On this occasion I used a couple DS Gluten Free Ciabatta.  I wanted the crusty exterior with soft bread so that I could tear and dip into the sauce.  (I'm actually getting hungry writing this)  These need baked in the oven, but I have often done this straight from the freezer.
Method
Pre-heat your oven to around 170 degrees Centigrade (this was a fan oven).
Cover the bottom of the dish with Olive Oil.  This is another reason that you don't want a massive individual dish as too much oil would ruin it.  Add in your garlic, smoked paprika, chilli flakes and salt.  Give a quick stir with a teaspoon.  Put the dish on an oven tray and heat for about 20 minutes.
The oil should be bubbling when you take it out of the oven.  Check for seasoning and add more salt if required.  The Paprika should not taste powdery, it should have cooked into the oil and have a smooth texture.  If it still tastes powdery at this stage, put back in the oven for another five minutes.
When you take the flavoured oil out of oven, add the prawns and return to the oven until the prawns are heated/cooked and the oil is sizzling again.
That's it….so simple yet absoultely amazing flavours.
Serve this with your bread and enjoy.